Apply to compete in Miss University 2023: https://olemiss.campuslabs.com/engage/submitter/form/start/547370
Contact: Jordain Lang, jlang@olemiss.edu
About The Miss America Organization 
The Miss America Organization is the nation's leading advocate for women's education and the largest provider of scholarship assistance to young women in the United States, awarding millions of dollars annually. Miss America candidates contribute tens of thousands of community service hours annually and have raised scholarship funds for Miss America.
The mission of Miss America is to prepare great women for the world and to prepare the world for great women. As such, the Miss America Organization is dedicated to empowering young women to achieve their personal, professional, and educational goals.
The vision of Miss America is she can be whatever she wants to be. And yes, she is beautiful- beautiful in the way she is smart, principled, and passionate. Stunning in how she leads, commands a room, and makes an impact. Striking in her authenticity, adaptability, and fearlessness. She is genuine and has the ability to take her power and use it to change the world. Never guided by what she should do but forever driven by what she could do. She has the confidence, the skills, and is empowered to make it happen.
The young women who compete in the Miss America system are intelligent, articulate, highly motivated, caring, talented, ambitious, and hard working. They are passionate about their social impact initiative and are major contributors to public service. They exemplify leadership skills, strength of character, and spirit – they touch lives.
Miss University candidates should be an example of the highest standards for young women in our state and represent the principles and vision of the Miss America Organization.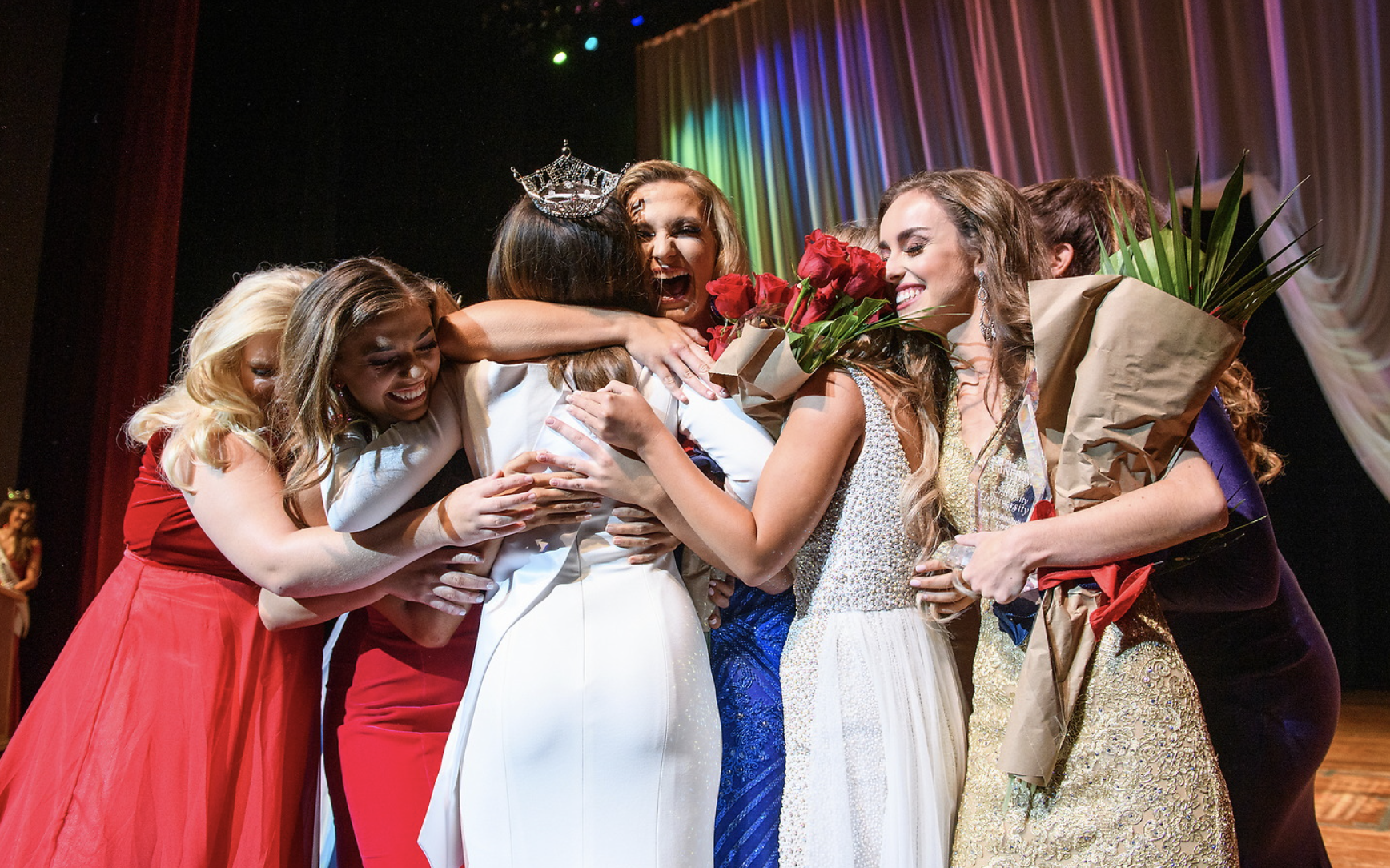 Am I Eligible to Compete?
Please make sure you meet the following requirements to ensure your eligibility to compete in a Miss Mississippi Local Competition. If you have any questions regarding your eligibility, please contact the local director of the specific competition you are entering. Eligibility requirements are subject to change as updated guidelines from the Miss America Organization are released.
Must be a full-time student enrolled in Classes at the University of Mississippi–No Exceptions
Never Before Competed in any National Finals of the Miss America Organization
Age: Must be at least nineteen (19) years of age as of December 31st in the calendar year of the state competition in which she competes. ​*The candidate cannot be eighteen (18) years of age on December 31st in the year she could compete at the State Competition. If the candidate is eighteen (18) years of age in the year she could compete at the state competition, then she must compete in the MAOTeen program unless she meets the Grandfather Exemption. 
Must not be older than twenty-six (26) years of age as December 31st in the state competition's calendar year in which she competes. *The candidate cannot turn 27 years of age at any time during the calendar year (Jan. 1-Dec. 31) in which she will compete at the state competition. 
Residence: Must reside in, be enrolled in, and physically attending classes on a full-time basis at an accredited college or university; or be employed on a full-time basis for at least six months in the state in which she intends to compete
Citizenship: Must be a citizen of the United States of America at the time she enters her first competition
Education: Must be a high school graduate or have successfully completed the GED testing program for high school equivalency or have successfully completed the academic requirements for entry into a college or university degree program.
Employment: Must be a full-time employee working in the state for at least 40 hours per week, or be defined as full time by your employer and work no less than 32 hours per week for at least 26 consecutive weeks immediately preceding the date of the first local competition. This employment must be maintained through the state and national competition.

Additional Requirements

Additional requirements may be expressed in local and state contestant contracts
Must not use or consume any illegal controlled dangerous substances or abuse the use of alcohol or other dangerous substances
Must be in good health and can participate fully and without limitation in all program activities
Must be of good moral character and has not been involved in any act of moral turpitude
Must never have been convicted of a criminal offense, nor have any criminal charges pending
Must not be a parent or the adoptive parent of any child
Must have never been married, nor had a marriage annulled
Competition Requirements
As a Miss University candidate, you will be expected to advance your social impact initiative, the Miss Mississippi Organization, and serve as an ambassador for the Miss America Organization, raising funds and awareness for the scholarship program.
Local Competition Phases of Competition
Scoring Percentages for all local competitions are as follows:
• Private Interview – 35%
• Onstage Interview/Social Impact Pitch – 15%
• Red Carpet – 15%
• Talent – 35%
Competition Specifics:
Private Interview: The 9-minute 30-second private interview is designed to allow insight into the candidate's ability to fulfill the responsibilities of being a local titleholder. It is an opportunity for the judges to learn as much as possible about the candidate's qualities and attributes, commitment to her social impact initiative, commitment to continue her education, and ability to express and distinguish her beliefs. Questions can come from a variety of places including but not limited to candidate resume, social impact statement, current events, education, and personal opinions.

A candidate can have a 30-second closing statement where they will be able to share any closing comments with the judges. At the 9:30 mark, the judge will indicate that the time is up and the candidate will have 30 seconds to close her interview on any subject that she so chooses.
What to Wear – Candidates should look their professional best. You are applying for a job and should dress in a manner that is reflective of that job.
On-Stage Interview: The on-stage interview is a continuation of the candidate's private interview and brings the interview to the stage in an interactive energetic way to showcase each candidate's intelligence, personality, charisma, and aptitude for the titleholder job. This phase of competition allows the audience to get to know the candidate and enables the audience to see how these discussions take place in a public forum showcasing your ability to communicate, stage presence, commanding presence, and relatability. The audience gets to see that the candidate does not simply answer the question, but builds on a conversation from the personal interview. This phase allows one to see how well the candidate can serve as a role model and is reflective of her generation.
Social Impact Pitch: Immediately following the Onstage Interview, the candidate will deliver a 10-20 second Social Impact Pitch, which at her discretion can include a statement on the initiative's importance, her work and plans with the initiative, or other information.

Each candidate must have a social impact issue that she will devote her time to promoting during her year of service. This social impact initiative is a cause or organization that the candidate is passionate about and volunteers her time to improve. Some examples of social impact issues include but are not limited to literacy, mentoring, Alzheimer's awareness, organ donation, and many other issues. You should make your social impact initiative personal and make it unique to what is important to you.

What to Wear – Candidates' choice
Red Carpet:  The Red Carpet part of the competition allows a look into how the candidate exhibits her own personal style, attitude, personality, grace, presence, and confidence in evening wear or whatever a candidate would wear at a formal, red-carpet event. This phase allows a look into composure, confidence, the attention she captures on the stage, her command of the stage, presence, and how she appears in the spotlight. This phase of competition allows one to see how she carries herself on stage and how she presents her social impact initiative.

What to Wear – Candidates' choice of evening wear
Talent:  Talent competition provides an insight into the candidate's preparatory and performance skills. This phase looks at interpretive ability and technical skill level, selection of presentation as well as the performance, stage presence and personality, and how enjoyable and relatable the performance is.

Each candidate will perform her talent live with a ninety-second (90) maximum time limit. There will be absolutely no exceptions to this rule.
Candidates will be allowed only two (2) practices of their talent presentation prior to the local competition. These talent rehearsals will be scheduled at the discretion of the local director.
What to Wear – Candidates should select an outfit appropriate for their talent.